Bonnie Neilson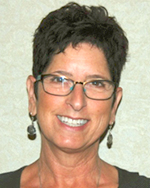 Bonnie Neilson's first non-profit experience began in 2006 when she became a tutor for School on Wheels. She came to CASA of Ventura County in 2008 and volunteered to become a Waitlist Supervisor in 2015. With CASA, Bonnie:
-has been an advocate for five CASA appointees
-specialized in teens and non-minor dependents
-supervises and manages the Waitlist Committee
Bonnie holds a BA in Communication from UCSB. She and her husband have owned and run Castle Funding Corp since 1989 and live in Agoura Hills where they raised their three children.