What is a CASA Volunteer?
---
A Court Appointed Special Advocate (CASA) volunteer:
is an ordinary person doing extraordinary things.

A Court Appointed Special Advocate (CASA) volunteer is a trained community member who becomes a sworn officer of the court by the Juvenile Court Judges to represent the best interests of a court-dependent child. CASAs ensure children involved with dependency or delinquency courts have a voice in their proceedings. A CASA provides the court with carefully gathered information about how the child is doing while he is part of the juvenile court system.  This information helps the court make a sound decision about the child's best interest.
CASA volunteers come from all walks of life but they have many things in common:
They care about at-risk children and want to help them
They are responsible adults who demonstrate objectivity and commitment
They are willing to give 10-15 hours each month
They enjoy a sense of fulfillment knowing that they are making a positive, lasting difference
Becoming a CASA Advocate involves:
attending an Informational Presentation
an interview and thorough background checks
completion of 40 hours of training
agreeing to serve a court dependent child for a minimum of 12-18 months, however, our expectation is that a volunteer stays with a case to the end of the dependency
CASA Best-Interest Advocacy Model: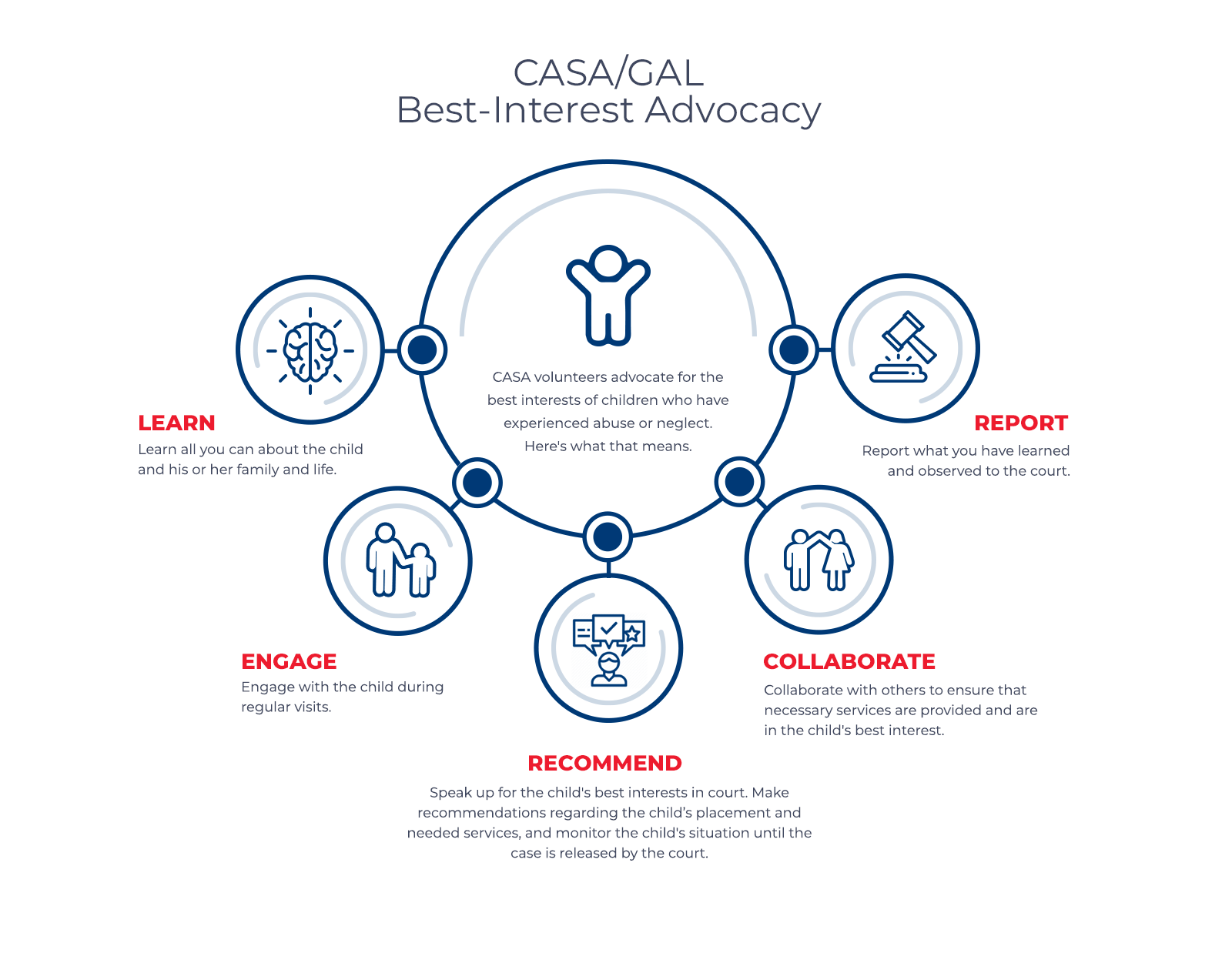 What CASA Volunteer Advocates say about their work:
"I don't know of anything better that I could be doing with my time."
"The best volunteer activity around."
"There were many times when I saw him and he was indifferent to me, as if he did not care whether I came or not. However, the following week when I showed up again he was changed and so happy to see me. I guess he was learning that no matter what he did, I would come to see him again…He learned to feel valued by me…He learned to love himself and tremendously improved his self worth and self esteem…He no longer has to fear that he will have to go to another home again." 
"The training is outstanding, the small staff is focused and dedicated, I feel that you are part of a creative team effort. It adds up to an opportunity to make a difference in the life of a child."
"My efforts bring permanency and stability into the kids' troubled lives and rekindles hope for a brighter future for these at-risk children."
"I have been a volunteer advocate with CASA for 12 years as the voice of abused and neglected children adrift in the court system".
Learn more about becoming a CASA volunteer:
* = required